NOTES THIS PRODUCT REQUIRES A 2 WEEK LEAD TIME
Introducing the latest in home comfort technology, with the 4th Generation MRCOOL® DIY 12K BTU, 22 SEER Ductless Heat Pump System. This powerful single-zone system has the capability of heating and cooling an area up to 500 sq. ft. It comes complete with a 12K condenser, 12K air handler, and a 25 ft. line set pre-charged with R-410A refrigerant. The line set also has quick connectors which require no special tools, equipment, or training to install.
The MrCool DIY system also includes many features that make it stand out among its competitors. The first of which is its ability to achieve an outstanding 22 SEER efficiency rating allowing it to be Energy Star certified. This system has many operating modes to select from to suit the needs of the user, including HEAT, COOL, DRY (dehumidification), and SLEEP. It also has the Follow Me function that adjusts the temperature of the room based on the temperature being read by the hand-held remote control.
The DIY features the convenience of being able to operate its modes and functions with your smartphone by using the Smart HVAC app. The MrCool mini split is the only system on the market to offer a limited lifetime compressor warranty.
Key Features
Up to 22.5 SEER2
Gold Fin® condenser: corrosion-resistant coastal living - don't worry, our condenser is built to resist long term corrosion
Variable-speed DC inverter compressor technology cuts operating costs
R-410A environmentally friendly refrigerant
Standard 7-year compressor/5-year parts warranty; register for limited lifetime compressor warranty
Quick-Connect
®

 

Pre-Charged Line Set

Kink resistant for easier bending during installation

100% accurately precharged R-410A refrigerant

Standard lengths of 16ft and 25ft can be combined using optional DIY® Couplers for longer lengths

Simple to Use, Leak Proof, and Screw-on Quick Connect Valves do not require vacuuming

Quicker Installation than Conventional Line Sets

Strong UV protective insulation provides extra protection against sun damage, weather erosion, or destruction from animals or insects

Now Included: The DIYPro™ cable - a stronger electrical conduit that protects your cables from the weather and from gardening tools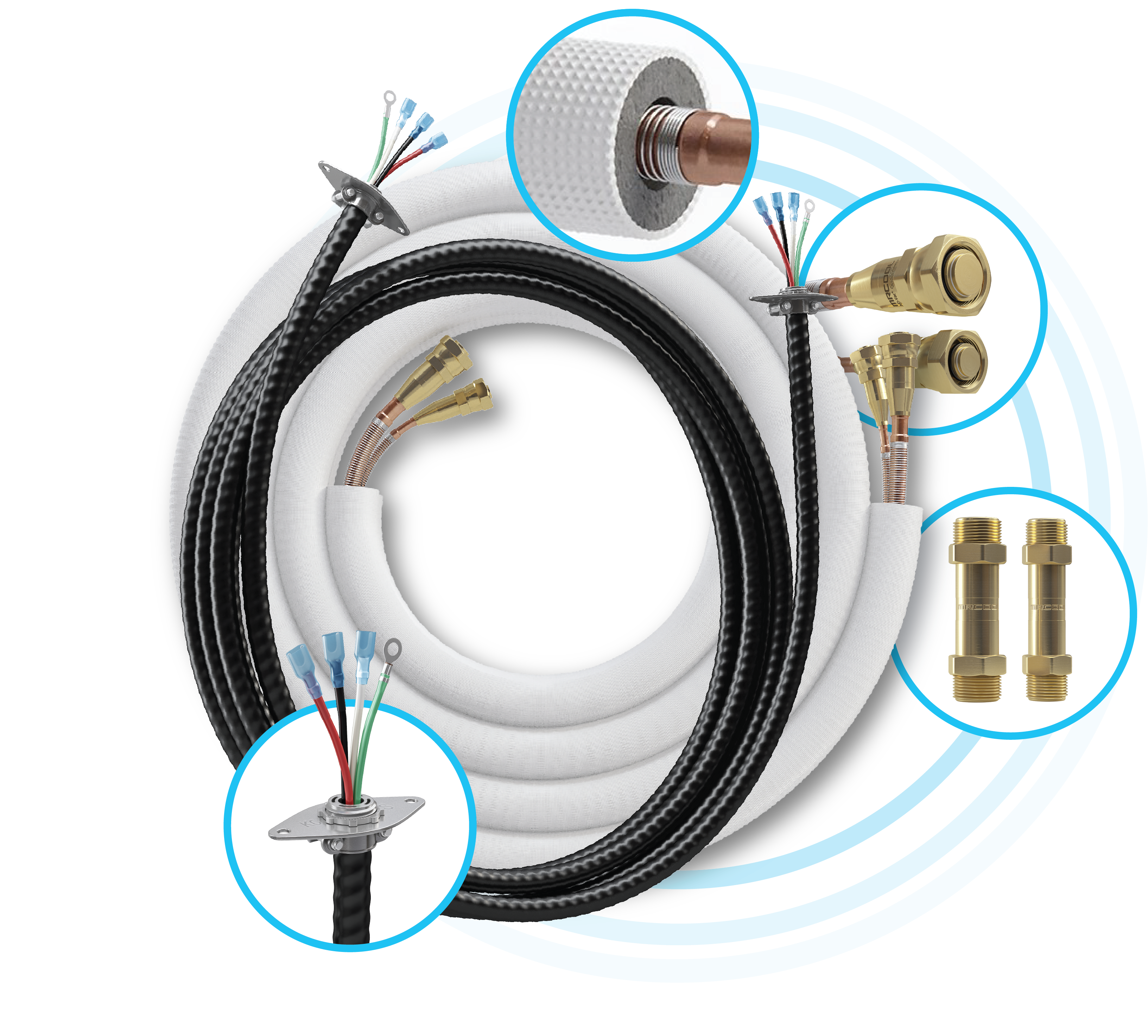 Specs
Product Specifications:
SEER (Seasonal Energy Efficiency Ratio): Up to 22.5 SEER2
EER (Energy Efficiency Ratio): 12.5
COP (Coefficient of Performance): 3.36
HSPF (Heating Seasonal Performance Factor): hspf4/hspf5: 11.5/9, hspf2-4/hspf2-5: 9/7
CFM (Cubic Feet per Minute): 305.88/211.76/147.06
Tonnage: 1
Cooling Capacity: 12000 BTU
Heating Capacity: 12000 BTU
Voltage: 115 V
Phase: 1
Cycle: 60 Hz
Max Fuse Breaker: 25 A
Min Circuit Ampacity: 19 A
Color: White
Color Family: White
Rated Load: 0.53 A
Max Coverage Area: Up to 500 sqft
Zone Capacity: 1
Refrigerant Type: R-410A
Refrigerant Volume: 38.10 oz
Decibel Rating: 37/31/23.5
Decibel Rating (Low): 23.5 dBA
Decibel Rating (High): 37 dBA
Oscillation: 4-W
Inverter: Yes
Min Ambient Cool: -13°F to 122°F
Min Ambient Heat: -13°F to 75°F
Line Set Length: 25 ft
Max Line Set Length: 75 ft
Liquid Line Size: 1/4 in
Suction Line Size: 1/2 in
Compressor Motor Type: Rotary
Condenser Fan Motor RPM: 850/600
Blower Motor RPM: 1100/850/700
Auxiliary Heater Included: No
Auxiliary Heater Available: No
Fan Only Option: Yes
Quiet Mode: Yes
Auto Cool: Yes
WiFi Compatibility: Yes
App Compatibility: Yes
Works with iOS: Yes
Works with Android: Yes
Remote Control Included: Yes
UL Listed: Yes
Energy Star Certified: Yes
AHRI Certified: Yes
Warranty:
Registered Warranty: Limited Lifetime Compressor
Base Warranty: 5-year Parts/7-year Compressor
Base Parts Warranty: 5-year Parts
Registered Compressor Warranty: Limited Lifetime Compressor
Base Compressor Warranty: 7-year Compressor
Additional Features:
Has Batteries: Yes
Contains Electronics: Yes
Contains Chemicals: Yes
Contains Aerosol: Yes
Contains Compressed Gas: Yes
Proposition 65 Warning: Yes
Restricted States: GU;PR;VI
Dimensions and Weight:
Condenser Depth: 11.93 in
Condenser Height: 21.85 in
Condenser Width: 30.12 in
Condenser Weight: 65.70 lbs
Air Handler Depth: 7.44 in
Air Handler Height: 11.69 in
Air Handler Width: 31.57 in
Air Handler Weight: 24.03 lbs
Downloads
Processing time:
All orders are processed within 1 to 3 business days (excluding weekends and holidays) after receiving your order confirmation email. You will receive another notification when your order has shipped. 
Shipping times:
We currently carry inventory that is stored in Canada and the US and as such certain items will have different shipping times.
For Canadian located inventory: The standard shipping time will be between business 4-14 days from the day the inventory was processes. Note faster shipping options may be available upon checkout. 
For USA located inventory: The standard shipping time will be between 7-20 business days from the day the inventory was processes. Note faster shipping options may be available upon checkout. 
Payment & Security
Your payment information is processed securely. We do not store credit card details nor have access to your credit card information.